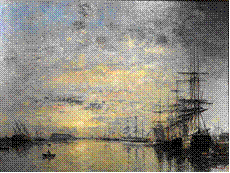 Eugene-Louis Boudin (1824-1898)
Young Eugene met painters like Millet in his father's picture  framing store.  At the age of 22 he began to pain full time and traveled  initially to Paris and then through Flanders.  He was profoundly influenced  by the Dutch 17th century masters.  His success was assured when  his own painting was accepted for exhibit in prestigious Paris Salon of 1859.
Boudin befriended Claude Monet at the age of 18 and  advised the young caricaturist to paint landscapes.  In 1874, Boudin joined  his plein aire (outdoor painting) peers in the first exhibition of  artists who sought to represent the "play of light" with clear unmixed color  and visible brush strokes: the impressionists.
Eugene-Louis Boudin had been born the son of a harbor pilot  at Honflueru and had worked several years from the age of 10 aboard a local  steamboat.  The painter was praised at the end of his life by the great  painter Coro as the "master of the sky."
Eugene-Louis Boudin (1824-1898)